Increased coverage time (24/7 service available)

Same day reporting

Fast response for emergency cases
Radiologists

: Minimized number of onsite radiologists, no workstations needed, no sick-leaves, no transportation delays.

IT support

: No need to hire dedicated IT engineers.

Administration

: No extra personnel needed on site.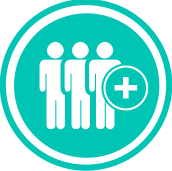 Better reporting quality

Better physician satisfaction

Increased referral rate

Increased business profits.